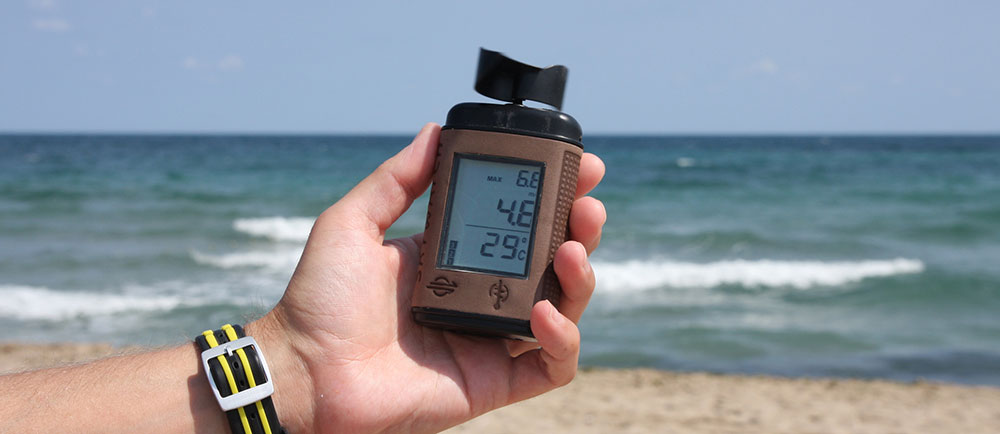 Plenty of professionals and hobbyists alike use portable anemometers or portable weather stations for a variety of uses. These devices range from simple portable wind gauges all the way to fully-fledged weather stations with tons of features. In this article, we're going to go down the list of the top portable weather instruments. If you're reading this list then you're probably going to be especially interested in the size and weight of these anemometers so we'll be listing that alongside each contender for the best portable anemometer.
Our picks for the best portable wind speed and direction meters & weather stations
Basic Pocket Anemometer AP-816B for Wind Speed
If you're on a budget or just looking for a portable model to give you wind speed on the go, you can't go wrong with this pocket anemometer. This basic portable anemometer will measure wind speed and temperature. It features an easy to read backlit screen that works well even in the dark and a 180 degree rotatable turbine head for measuring wind speed (it does not rotate in the opposite direction but the blades measure wind in either direction so there's no need for this). It operates at 0 to 30 meters per second wind speed (67 miles per hour) and from 14 degrees Fahrenheit up to 113 degrees (-10 to 45 Celsius, both modes are available). This pocket anemometer also offers its wind speed measurements in a variety of modes: meters per second, km/hour, Knots or miles per hour. Powered with a CR2032 coin battery (included).
This basic portable anemometer is great for hobbyists like drone operators or kite flyers and sports enthusiasts like surfers
Measures: Wind Speed, Temperature (C & F), Wind Chill
Weighs: 53g / 0.11 lbs
---
HOLDPEAK HP-866B-APP Anemometer & Tripod
This is another affordable portable anemometer with a few more bells and whistles. A basic anemometer, Holdpeak offers windspeed and temperature measurements, but this bundle gives you more flexibility. First, the anemometer comes with a tripod (max height 35 inches) so you can set it up to record data over a longer period of time. The anemometer can also sync via Bluetooth with a smartphone app, which allows you to look at the readings remotely while also tracking wind speed over time. An affordable option for hunters, sailors, and school teachers looking to measure windspeed.
Powered by 2 AAA batteries (included)). Come with a protective case, lanyard, tripod, and user manual.
Measures: Wind Speed (range 0.3~30m/s up to 69 mph), Temperature (range 14F – 113F), Wind Chill
Dimensions: 6.4 inches by 3.3 inches by 1.4 inches
Weights: 1.1 pounds
---
CFM Pro HVAC Anemometer
If you're looking for a portable wind speed meter for measuring equipment airflow, this one might be for you. This next anemometer, portable with case included, is aimed at professional users who need to be able to separate the display from the actual wind turbine instrument itself. For instance, HVAC pros may find this portable wind meter especially useful when they're measuring airflow from vents or air ducts while troubleshooting on site. The telescopic rod makes it easy to take vent measurements up high without using a ladder. This HVAC anemometer measures airflow/velocity from .001 to 100 mph and temperature in a 32-113 F range. Runs on one 9V battery (included).
Dimensions: 6.4 inches x 3.34 inches x 1.35 inches
---
Ambient Weather WM-5 Handheld Weather Station
Ambient Weather makes some of the best portable anemometers for the money. If you need more features than just wind speed and temperature, consider this portable weather station. It takes the same readings as the above models but it adds in the ability to detect exact wind direction with its directional compass as well as humidity, heat index, dew point measurements, and more. It can calculate crosswinds, headwinds and tailwinds, and gusts too. This is also a rugged unit; it's water-resistant and it floats. Accurate from -20 to 158F (-28-70C) and 0.8-90 miles per hour. Uses one coin style Lithium battery (included). CE Certified & RoHS Compliant.
Dimensions: 5.9 inches long x 2.1 inches wide x 0.85 inches thick
Weighs: 181g / 0.4 lbs
---
Kestrel 5500 Weather Meter
If you need a high quality, extremely precise portable wind speed and direction meter with tons of other features, the Kestrel 5500 might have your name on it. This high end portable weather station offers over a dozen different measurements:
heading
wind direction and speed (current/average/max)
cross/head/tail wind
pressure trend
altitude
wet bulb temperature
barometric pressure
relative humidity
heat stress index
dewpoint
density altitude
wind chill
air/water/snow temperature
In addition to its easy to read digital display this model also has Bluetooth and connects to a free iPhone/Android app and allows you to download data on to your computer using a Kestrel computer dongle (sold separately). This Kestrel 5500 kit comes with both the portable wind meter itself and also a vane mount which swivels in whichever direction the wind is blowing for the most accurate measurements. It works with a normal full sized camera tripod but it can also be fitted to a Kestrel Mini Portable Tripod. (For full-sized tripod recommendations, see this related article: What is the best tripod under $100?.) All these features come together to make the Kestrel 5500 one of the best portable anemometers today. Runs on 1 AA battery (included).
Dimensions: 5 inches x 1.9 inches x 1.1 inches
Weight: 0.27 lbs / 121g
---
Frequently asked questions about portable anemometers
Does an anemometer measure wind direction in addition to speed?
Some portable wind speed meters measure only wind speed and others measure direction as well. In this article, we've noted which models will give you direction data. Especially sophisticated anemometers will even sometimes have wind direction vanes and tripod mounts for measuring wind direction and capturing the most accurate possible data, such as the Kestrel 5500 portable weather meter.
How much do portable weather instruments cost?
It depends on the unit and how many features it has. Generally speaking, simple portable wind gauges can be found for around $20 while more sophisticated portable weather stations can retail for all the way up to hundreds of dollars. The less expensive models may only offer the ability to read wind speed and temperature while more expensive models throw in a host of other features that help predict what the weather will be like (dewpoint, barometric pressure, density altitude, humidity sensors, etc). Each user's use may be different.
What is the best portable anemometer?
Again, it depends on what you need to use it for but if you're looking for one of the most fully-functional wind speed meters, we'd say that the Kestrel 5500 is one of the top handheld anemometers out there right now.
Are any of these portable wind vane anemometers?
Of the units listed in this article, only the Kestrel 5500 comes with a wind vane attachment for mounting on a tripod or mini-tripod. With that said, it's worth noting that the Ambient Weather model also can calculate wind direction with its built-in compass.
Related:
What is the Best Handheld Anemometer? Handheld Weather Station Reviews
The best wind meters for long range shooting
What is an Anemometer and What is it Used For?