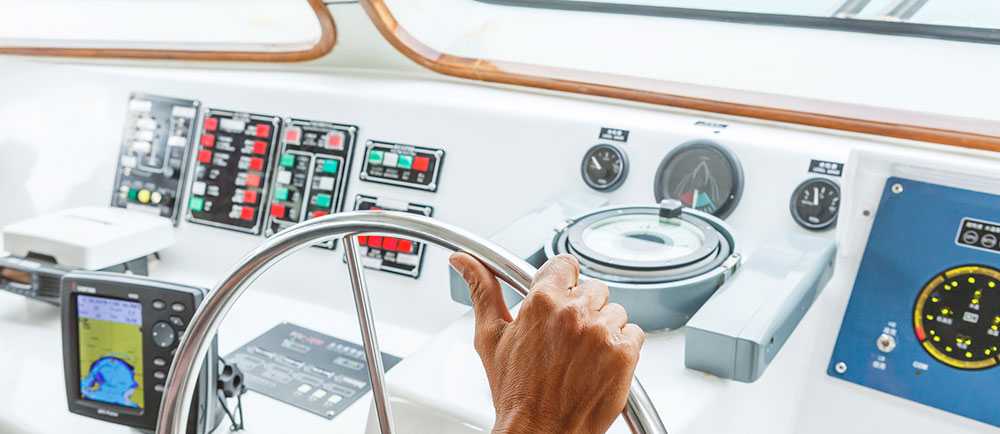 If you're a sailing enthusiast you probably are no stranger to needing accurate wind speed and direction information. There are a slew of wind meters available today for just about every need: from handheld anemometers (wind speed meters), to sailboat mounted wind direction indicators and more. In this article, we're going to do a roundup of the best wind meters for sailing, wind vanes for sailboats, the best anemometers for sailing, and more.
The best wind direction meters for sailing
WeatherHawk SM-18 SkyMate Hand-Held Wind Meter, Yellow
This floating anemometer is one of the best wind speed meters for sailing. It can measure wind speeds ranging from 0.5 miles per hour all the way up to 99MPH at user-selectable intervals of every five, ten, or 13 seconds (in addition to calculating the average wind speed and tracking peak speed for you). Plus it can also measure wind temperature and wind chill in both Fahrenheit and Celsius. One other nice feature about this sailboat anemometer is that it comes with a durable build and a bright yellow flip-shield. Naturally, it's also water-resistant so if it falls into the water you'll be able to easily spot it floating. Also comes with a loop for a lanyard or wrist strap if desired. A belt sheath is also available for this product.
For more handheld anemometers, see our full article: The Best Portable Anemometers & Portable Weather Meters.
Cape Cod Wind Speed Indicator for Sailboats
Cape Cod Wind & Weather instruments have been a staple of sailors since the company was founded in 1939. With an emphasis on quality American-made wind speed indicators, these gauges are built to last.
This wind speed indicator for sailing can mount on your sailboat either vertically or horizontally and it comes with a spinning cup wheel which can be mounted wherever you like (the supplied cable is 50 feet long and comes with a mounting bracket and screws). For wireless anemometers, see our related article: What is the Best Wireless Anemometer & Wireless Wind Speed Meter?
For decades Cape Cod Wind & Weather has supplied sailors with reliable real-time sailboat wind direction indicators, and this wind speed meter for sailing is no exception.
This unit measures wind speed from zero to 100 miles per hour and comes with a ten-year limited warranty. Pairs well with Cape Cod's Wind Direction Indicator which matches with a lighted dial interface for wind direction metering.
---
Davis Instruments Windex 15 Suspension Bearing
This weather vane for sailboats mounts on your masthead through bolts or a tap and it provides an easy-to-read wind direction indicator. It's one of the most popular sailing wind vanes on the market and this particular Davis Windex model is intended for medium to larger boats (the vane itself is 15 inches long; a smaller model exists for smaller boats). This model has what Davis calls a bird-proof spike to keep seagulls from trying to land on the instrument while you're sailing. The vane itself features tabs that reflect in order to remain visible at night or in dark conditions.
---
Davis Instruments Spar-Fly Wind Indicator for Yachts and Dinghies
This compact sailboat wind direction indicator comes in a bright red color and has both a top and side mounting option. It measures 15 inches long, is highly visible, and weighs an astonishing 1.25oz for a highly responsive level of accuracy even in light wind conditions. The Spar Fly sailing wind vane is intended for sailing dinghies or small yachts and has great reviews.
Raymarine i60 Wind System with Masthead Instrument
The Raymarine i60 Wind System measures wind speed and direction as well as a slew of other readings with an easy-to-read digital-dial hybrid display and a masthead mounted instrument. It comes mounting gear and a 100 foot long (30 meters long) cable to connect the wind meter to the display. This is one of the best anemometers for sailing. Can measure wind speed/direction, maximum wind speed (peak), Beaufort scale, Tack and VMG. Plus it has a red backlight for dark conditions.
Frequently asked questions about windvanes for sailboats & the best anemometers for sailing
What features should I look for when shopping for a wind meter for sailing?
The best wind meters are often mounted anemometers made specifically for boating which have a display you can attach to your console. We have a few such wind speed meters for sailboats listed in this article, above.
Handheld anemometers for sailing usually float, are brightly colored, and are waterproof in case they fall into the water. They may also contain temperature gauges and loops for wriststraps or lanyards.
No matter the type of anemometer you choose, a large easy to read at a glance display is also especially useful for sailing anemometers.
What is an anemometer?
An anemometer is simply a wind speed meter. Some anemometers have digital displays, others have dial displays. The most sophisticated anemometers can also measure a variety of other metrics like temperature, dew point, humidity, barometric pressure, and so forth. Advanced anemometers can even give a personalized weather forecast for any location (especially useful if you're using an anemometer in a spot where there isn't a reliable weather forecast). Anemometers for sailing are useful because they give a clear and accurate reading of wind speed and direction. For more information about what anemometers are, read our related article: What is an Anemometer and What is it Used For?