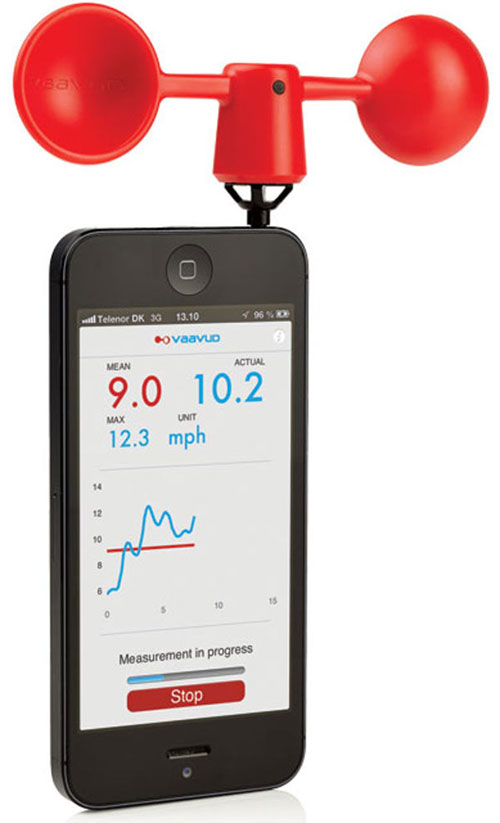 Anemometers have been around for hundreds of years. They're extremely useful devices that measure wind speed and sometimes other climate or weather information. Today a new class of wind meters is gaining popularity: smartphone anemometers. Anemometers for smartphones (and anemometer attachments/accessories for smartphones) are useful for both professionals and hobbyist anemometer users. In this article we're going to run down some of the best wind meters for smartphones.
Our picks for the best wind meter for smartphones
WeatherFlow Wind Meter for Smart Phone
This Android/iPhone anemometer attachment plugs into your headphone port (or Lightning to Headphone adapter in the case of newer iPhones) and provides you with wind data in an app. It measures both the current wind speed and also keeps track of gusts, plus the direction and GPS location. Using the free app you can even share the wind data on social media. Also works on iPads and iPod Touches.
Note: this model also comes in a wireless Bluetooth anemometer version for your smartphone (plus a second Bluetooth version with ballistics information for shooting).
Platforms: iPhone, Android
Battery required: Powered by your smartphone's battery
Max wind speed: 125mph / 200kmph / 108 knots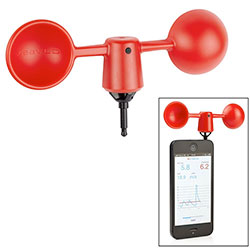 Vaavud Wind Speed Meter with Smartphone App
This is a basic iPhone anemometer/Android anemometer that plugs into your smartphone's headphone port (it also works on iPads). It doesn't use any battery power but instead measures wind speed by cleverly calculating the speed of the spinning magnets turning by using your phone's built-in magnetic compass. Note that if you have a newer iPhone or Android phone without a headphone jack, you may want to get a wireless Bluetooth anemometer instead (it will still work, but you'll have to hold it instead of plugging it in). Comes with a carrying pouch.
Platforms: iPhone, Android
Battery required: None
Max wind speed: 56mph / 90kmph / 48 knots
Netatmo Wireless Weather Station for iPhone & Android
This iPhone/Android anemometer does not plug into your smartphone but instead can be mounted outdoors as a stationary weather station. It connects to your smartphone or tablet using its special app and gives you information on weather conditions wirelessly from up to about 100 feet away. (It even can connect to an Amazon Echo device for voice readouts of weather conditions, if you have one.)
Platforms: iPhone, Android
Battery required: Yes (4 AA batteries)
Max wind speed: 100mph / 160kmph
The Vaavud Sleipnir from the Netherlands is one of the best iPhone anemometers (it works on iPads and Android devices too). This device plugs into your smartphone's headphone jack (or in the case of the iPhone 7 and above without a headphone jack, it plugs into your Lightning to headphone jack adapter or a stiff Lightning to headphone adapter). It works with the Vaavud smartphone app to measure both wind speed and direction. The data can be added to an online crowd-sourced database and stored in your phone as a log. This smartphone wind meter is extremely popular for sailing.
Platforms: iPhone, Android
Battery required: Powered by your phone's battery
Max wind speed: 89mph / 144kmph / 78 knots
Skywatch Windoo Wind Speed Accessory for Smartphones
This weather station smartphone accessory plugs into your iPhone or Android device's headphone jack and gives you a plethora of data. It measures: wind speed, wind chill, dew point, temperature, and barometric pressure and feeds that data into a convenient free multi-platform smartphone app. Since this weather station for iPhone/Android is so small, it has a built in keychain attachment as well as an included but optional wrist strap.
Platforms: iPhone, Android
Battery required: Powered by your smartphone's battery
Max wind speed: 93mph / 145kmph / 80 knots
Kestrel Fire Weather Meter Pro
If you're looking for a professional-grade anemometer that works with a smartphone, this might be a good unit to consider. It's made by Kestrel, the high-end anemometer manufacturer and it syncs data with an app on your smartphone or computer. Like other Kestrel wind meters, this one is quite rugged, drop tested, waterproof and it even floats if dropped in water.
The Kestrel Fire Weather Meter Pro is more than just an anemometer accessory for smartphones, it also measures heat stress index, wet bulb temperature, humidity, altitude, temperature, and other weather-related measurements. Its backlit screen makes it easy to view both in the dark and outside on sunny days. Comes with a lanyard. Note: if you're looking for a Bluetooth anemometer for shooting, there is another version of this product with ballistics capabilities. See our companion article: The best wind meters for long-range shooting.
Platforms: iPhone, Android
Battery required: 1 Lithium metal battery (included, replaceable)
Max wind speed: 134mph / 216kmph / 116 knots
Frequently asked questions about smartphone wind meters
What are anemometers for Android phone/iPhones used for?
People use smartphone anemometers for a variety of purposes. A person might use an anemometer for sailing, RC flying, windsurfing, kite flying, and any manner of other things. Wind speed meters are also used in various professional applications from HVAC testing (air conditioning/heating) to checking locations for wind farm appropriateness.
How do anemometers for smartphones work?
The phone + app anemometers on this list measure wind speed by calculating the rate that rotating elements spin in the wind. The faster the wind is blowing, the faster the cups or blades will spin. The rotations are counted and the wind speed is calculated as a result.
What's better: an anemometer that connects to your smartphone physically or a Bluetooth anemometer?
This list includes both types of smartphone wind meters: those that are plugged into headphone jacks and those that connect wirelessly. There are two main differences: first, the Bluetooth models require their own internal battery. Second, the Bluetooth units tend to be more expensive.
There are reasons why a Bluetooth model may be more desirable in some cases, however, such as when you want to be separate from the wind metering instrument itself (if you have it mounted on something), or if you have a new smartphone without a headphone jack it can be easier to just get a Bluetooth model than using a Lightning to headphone (or USB-C to headphone) adapter.
What is the absolute best iPhone anemometer attachment?
Naturally, as with anything, people's preferences vary tremendously. But if you have an iPhone or Android phone with a headphone jack you might want to strongly consider the Vaavud models. If your smartphone doesn't have a headphone jack, then the WeatherFlow Wind Meter (Bluetooth model) may be the best wind meter for smartphones.
I use a protective case on my smartphone, what do I do if these smartphone anemometer accessories don't quite plug into it as a result?
This is a common problem among people who have Otterboxes or other chunky smartphone cases with thick protective plastic housings. Luckily you can get both flexible and firm headphone jack extenders which helps you plug in these anemometer smartphone dongles.
Related:
What is the Best Handheld Anemometer? Handheld Weather Station Reviews
The best wind meters for long range shooting
What is an Anemometer and What is it Used For?