Handheld wind speed meters or handheld anemometers are extremely useful portable devices to gauge wind speed and sometimes direction. They range from basic cheap handheld anemometers to fully fledged portable weather stations that can measure barometric pressure and give instant hyperlocal weather forecasts. We've reviewed some of the best portable handheld anemometers, and listed them below.
The best handheld anemometers and portable weather stations (our handheld anemometer reviews)
Amgaze Handheld Anemometer
If you're on a budget and looking for a basic anemometer, this model will meet your needs. The Amgaze measures wind speed, temperature and wind chill. With a long-lasting replaceable battery and easy to read LCD screen readout, data can be displayed in a variety of ways including switching measurement units between miles per hour, kilometers per hour, meters per second, feet per second and knots.
Key features of the Amgaze Wind Meter:
Cheap handheld wind monitor
Small and compact (pocket-sized)
Measures wind speed up to 65 miles per hour
Rugged build quality with protective case
Tripod hole on bottom of unit for mounting
---
Ambient Weather WM-5 Handheld Weather Meter
The Ambient Weather WM-5 is an upgrade to the previous handheld mobile anemometer. The WM-5 offers several advantages including a "jackknife" flip-case which doubles as a handle when you're measuring the wind so that your own body heat and moisture won't influence the instrument's sensitive measurements.
The WM-5 features a Swiss-made precise barometer to measure barometric pressure as well as a humidity sensor. Its battery lasts up to 400 hours and is replaceable by the user.
Key features of the Ambient Weather WM-5 Handheld Wind Meter:
Jackknife flip-cover design for precise accuracy
LCD screen can display 16 hour history bar graph
Small and compact (pocket sized)
Measures wind speed up to 87 miles per hour
Rugged build quality
Rain and weather resistant
Tripod hole on bottom of unit for mounting
---
WeatherFlow Wind Meter for Smart Phone
This Android/iPhone anemometer attachment plugs into your headphone port (or Lightning to Headphone adapter in the case of newer iPhones) and provides you with wind data in an app. It measures both the current wind speed and also keeps track of gusts, plus the direction and GPS location. Using the free app you can even share the wind data on social media. Also works on iPads and iPod Touches.
Note: this model also comes in a wireless Bluetooth anemometer version for your smartphone (plus a second Bluetooth version with ballistics information for shooting).
Platforms: iPhone, Android
Battery required: Powered by your smartphone's battery
Max wind speed: 125mph / 200kmph / 108 knots
---
REED Instruments Handheld Vane Anemometer
The REED Instruments Handheld Digital Anemometer measures wind speed in 5 user-selectable units (mph, km/h, etc) on a large easy to read LCD screen. This unit may be of particular interest to those who need a handheld anemometer for HVAC uses. The sensor unit has cable that separates the wind speed meter fan from the rest of the unit. This means you can stick the meter inside an air duct or other tight space to measure air flow and temperature without having to crawl inside it or stick an arm in there with a flashlight.
Note that because this hand held wind speed meter is in two parts (the sensor fan and the display readout) you'll probably need two hands to operate it, unless you're able to set one piece down on something. Two handed use might not be a problem for many applications, but it might be for some possible uses.
Key features of the Reed Instruments Handheld Digital Anemometer:
Wind speed meter is detached from display unit
Large, easy to read screen & button navigation
Comes with a carrying case to neatly transport the unit
Measures temperature in both Fahrenheit and Celsius
Records data to a removable SD card and can create spreadsheets
Runs off a single user-replaceable 9 volt battery
---
Kestrel 3000 Pocket Wind Meter
Kestrel is one of the best known names in weather data devices and the Kestrel 3000 is an extremely well regarded pocket wind speed meter unit. It features an easy to read LCD display which reads out information on wind speed, temperature, relative humidity, dew point temperature, heat stress index, wind chill and more.
The Kestrel Pocket Wind Speed Meter is designed for professional daily use and it not only displays data on the current wind speed, but also the average wind speed over a period of time as well as the maximum wind speed reached during the measurement session. It also measures wind speed in miles per hour as well as knots and more units.
This handheld wind speed meter also has another trick up its sleeve: it's waterproof and even floats! Especially handy for sailing enthusiasts who need a handheld anemometer for their boats.
Key features of the Kestrel 3000 Pocket Wind Meter:
Waterproof, floats
Pocket-sized, with lanyard strap
Rugged design built to withstand heavy use and drop-proof
Made in the USA
Includes a "heat stress meter" mode
---
Kestrel 5500 Weather Meter with LiNK + Vane Mount
This Kestrel handheld weather meter unit is probably the most fully featured handheld weather station on this list. It provides the user with a large easy to read display, and can optionally be used with the included tripod and wind direction vane. The Kestrel 5500 syncs with the Kestrel app on your iPhone or Android device up to about 100 feet in range and provides you with up to the second data on wind speed, direction, headwind and crosswind as well as temperature.
The Kestrel 5500 runs on a single AA battery and is fully waterproof up to about 3 feet for up to 30 minutes and it floats. It also measures humidity, barometric pressure, dew point, pressure trends, altitude and more as well as calculate wind chill and can store past use data within its memory banks. Comes with a neck lanyard, tripod, and wind direction vane attachment (though it can be operated without using these).
Key features of the Kestrel 5500 Handheld Weather Meter
Syncs with your iPhone or Android phone via Bluetooth
Waterproof & floats
Backlit display is easy to read even in the dark
Made in the USA
Includes a digital compass
Tracks headwind & tailwind
Works with a variety of ballistics phone apps for shooting
Red night vision LCD display mode
Includes a "heat stress meter" mode
Another nice feature of the Kestrel 5500 is that it can wirelessly connect to your PC or Mac to download weather data using an inexpensive dongle add-on. Using software you can then analyze historical wind speed information that you've collected using the instrument.
---
Factors to consider when choosing a handheld anemometer or handheld weather station
Does this anemometer measure more than just wind speed?
The most basic handheld anemometer will measure wind speed, temperature and probably nothing else. If your needs are limited to just that, then you can probably get away with a basic entry-level cheap handheld wind meter. But if there's a chance you might need some more weather sensors such as barometric pressure or dew-point, then you might be more interested in a fully fledged portable weather station. Still other more advanced portable weather stations can offer analytical information like heat stress index, Beaufort scale equivalents, or windchill based on combining multiple measurements into one.
Will I be using this mobile anemometer near water or in rain?
Some handheld anemometers are waterproof and others even float. If you're planning on bringing your wind speed meter on a boat or in adverse weather conditions, we recommend getting a portable anemometer that's designed for that (such as the floating and waterproof Kestrel models listed on this page).
Do I need a detached instrument or is an all-integrated wind speed meter okay?
Some users who are interested in extremely precise humidity or temperature measurements will want to consider an anemometer with a jackknife design such as the Ambient Weather WM-5 listed on this page which has a flip-out display cover which you can hold on to instead of the unit itself so as to avoid from influencing the data collection with hand-sweat or body heat.
What type of weather conditions will I be using this handheld anemometer in?
If you're a storm chaser that regularly finds themselves in high wind conditions then you might have more rugged needs than, say, an HVAC technician. Some anemometers are more rugged than others and can measure wind velocity up to almost a hundred miles per hour. Generally speaking the more expensive the anemometer, the faster the wind speed it should be able to read.
What is the price of this handheld anemometer?
Price is often a factor and the price range of handheld wind speed meters and portable weather stations ranges from a few dollars to several hundred. If you are planning on purchasing additional accessories such as tripods or other gear to use with your portable wind speed meter you'll want to be sure to factor that price into the total purchase price of your system. Ultimately the best handheld anemometer is the one that's right for you.
Do I need/want smartphone app compatibility for my handheld wind speed meter?
Some higher end wind speed meters such as the Kestrel models or WeatherFlow ones on this list offer the ability to connect your wind speed meter or weather station to your cell phone via iPhone or Android apps which you can download to provide in depth analysis of your hyperlocal weather conditions.
This Bluetooth connectivity can be useful for looking back at stored historical data (i.e. recognizing that a particular wind speed is the highest ever recorded, or what's "normal" wind speed for a ventilator system). Handheld wind speed meters that work with your phone can also sometimes hook up to other third party apps like ballistics apps for shooters.
What are handheld weather stations or handheld anemometers used for?
There are a number of things that people use handheld anemometers, pocket weather stations and portable wind speed meters for. Generally speaking, these are grouped into several different categories by use type:
Pocket wind speed meters for firefighters – In some places wind speed and directionality can be a matter of life and death. It's hard to think of a more critical use case for accurate wind speed meters or anemometers than firefighters battling a forest fire. Firefighters may use pocket weather stations to predict how conditions may change that impact the way that they fight wildfires as well as get a sense of where they may be able to safely be located while they're fighting wide ranging fires.
As one firefighter says in the video above: "The reason [wind is] important to us, fires can create their own wind but they're also driven by the wind that goes on within the weather. Increased winds will increase the veracity of the fire, changes in wind direction will change the direction that the fire's going, so those are things that are important for us to know when we come on the scene and monitor for changes during event." Relative humidity and temperature are also important weather factors for firefighters to monitor because humidity affects how quick nearby tinder is to catch fire.
Handheld anemometers for HVAC professionals – Contractors installing or maintaining heating, cooling and air conditioning units often find handheld anemometers useful because they're a convenient pocket sized way to gauge how fast air is blowing, and whether a unit is faulty or not without having to rely on what it "feels" like.
Portable weather stations for hikers & backpackers – If you're hiking in a microclimate or out in the middle of nowhere you may not have access to reliable weather data, especially at high altitudes. Carrying a pocket weather station with you can help produce accurate hyperlocal weather forecasts which can determine whether it's important to seek shelter in the case of adverse weather conditions.
Handheld wind speed meters for model plane enthusiasts – Although pilots of large aircraft can usually rely on other sources of weather data, model plane and drone pilots often find handheld wind speed and direction meters invaluable when determining their own hyper-local flying conditions.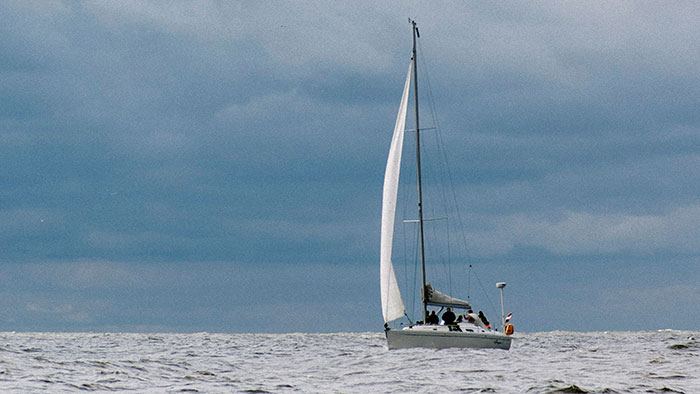 Portable anemometers for sailing – Large sailboats sometimes have anemometers (wind speed and direction meters) built-in but smaller boats don't have these and it's often handy to be able to check wind speed with a handheld device.
Anemometers for sports shooters & hunters – For sports shooters, wind speed and directional information can be quite useful to boost the accuracy of their shots. While hunters are interested in accuracy they may also be even more interested in the direction of the wind for scent purposes (hunting upwind, etc). Read more about the effect of wind speed and direction as well as scents in hunting in this article.
Weather stations & barometric pressure meters for fishing – Fishers also sometimes use pocket weather stations to measure barometric pressure which fish react to. In high or low barometric pressure environments fish swim slowly in deeper waters, while in falling pressure environments fish are more likely to be swimming near the surface and be ready to bite at any opportunity.
Wind speed meters for agricultural users – Farmers sometimes need to measure barn ventilation as well as temperature conditions for livestock purposes and so handheld portable wind speed meters are useful for them as well.
Wind speed meters for wind power professionals – People working in the rapidly expanding wind power energy sector often use handheld anemometers to measure wind speed at locations they're considering putting in new wind turbines or windmills, as well as for measuring data when doing maintenance checkups to existing wind power sites.
Coaches and trainers who need handheld heat stress meters – Some coaches working with athletes outdoors during summer or winter may want to use a wind speed meter that has a built in heat stress meter to monitor weather conditions by synthesizing a combination of temperature, wind speed as well as humidity. This is useful to make sure athletes don't over-exert themselves in challenging weather conditions while training. Some handheld wind speed meters such as Kestrel models offer this feature.
Pocket weather stations for storm chasers – Storm chasing is one of those hobbies that's gaining popularity due to both cheaper equipment and the effects of climate change producing more extreme weather variations. Storm chasers often use pocket anemometers in conjunction with other gear to monitor current weather conditions and trends. Pocket anemometers allow storm chasers to measure weather conditions surrounding extreme weather events without fragile equipment, since most of these small devices are rugged and many are weatherproof and come with lanyards or hand straps.
Pocket wind speed meters for EMTs & public safety workers – Portable wind speed meters are also useful for emergency medical technicians (EMTs) and also public safety workers dealing with avalanche control, smoke coordination, forensics, hazmat/biohazard remediation, K9 handlers, dive rescue workers, search and rescue, and more.
Pocket weather stations for Weather enthusiasts – The weather hobbyist community is growing and as weather station gear has gotten more both more portable and more affordable, some weather enthusiasts are choosing to buy their own portable weather stations. Weather reports generally offer forecasts for a large area– sometimes many square miles, and will never be as precise as the information you can get from your own handheld weather station.
Of course there are plenty of other reasons why a person might want a handheld weather station that aren't related to any of the use cases listed above. Whatever the reason that you're looking to buy a pocket anemometer we hope you find this article useful.
Frequently asked questions about handheld anemometers
What is an anemometer?
An anemometer is a wind speed meter that captures measurements on air velocity. To learn more about these devices, read our article titled What is an Anemometer and What is it Used For?
Some anemometers are more complicated and offer other advanced features like humidity, temperature and barometric pressure. These are sometimes referred to as personal weather stations.
Are there other types of anemometers besides the fan/vane anemometers listed in this article?
Yes, another popular anemometer type that sometimes comes in a handheld version is a cup anemometer. Read our article on those for more: The Best Cup Anemometers & How Wind Cups Work
How do anemometers work?
The anemometers on this list have fans or "vanes" which rotate at a speed based on the wind velocity. The devices then measure how fast the wind vane or fan is turning and then translate that into the speed of the wind in units such as miles per hour, meters per second, knots, or other units.
We hope you found our handheld anemometer reviews helpful. For more information about anemometers, visit our homepage, WindAndWeatherTools.com.