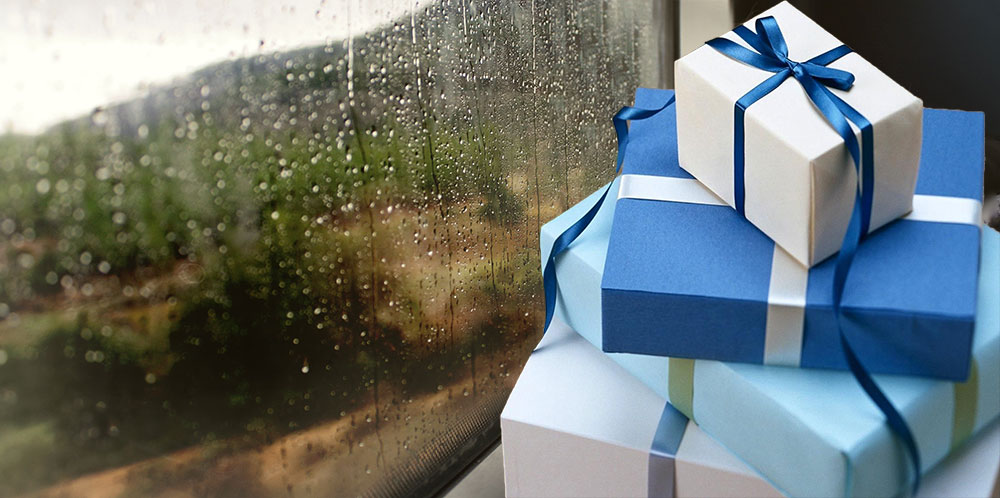 Are you looking for the perfect weather-themed gift for the weather nerd in your life? We've got some ideas for weather-related gifts whether you're shopping for a storm-chaser, weather nerd, bad weather lover or just a dad who's obsessed with checking the meteorological forecast.
Weather Geek Gift Ideas
1. I Love Rain T-shirt
Do you know somebody who loves rain or "bad" weather? This shirt is the perfect gift for anyone who can't wait to run out and jump in puddles after a rainstorm. Or for those kids who refuse to come in and want to dance in the rain (or, really, a person who loves bad weather of all ages). With a cute illustration of an umbrella and raindrops, this t-shirt proclaims: I love rain!
With adult and youth sizes, this is perfect for kids of any age who enjoy a good summertime thunderstorm. Get it as a gift for aspiring meteorologists, storm chasers, and weather enthusiasts. This shirt makes a great gift for people who aren't disappointed by rain and like storms!
Available in navy & royal blue.
---
2. RunningSnail Solar Crank NOAA Weather Radio For Emergency
Here's another weather gift idea to consider getting someone: a weather alert radio. This radio for weather notifications receives warnings on 7 NOAA weather channels and also receives AM and FM radio. It also has a built-in flashlight and LED reading lamp and is waterproofed enough to work outdoors during rainy weather, making it a great all-purpose and weather radio for camping trips.
Plus, it can be charged with USB power from a computer or USB power brick (like a cell phone charger), or AAA batteries or a hand crank or solar power with its built-in solar panel for use outdoors! The built-in solar panel is also adjustable so you can set an appropriate angle for use. This alone makes it one of the best emergency weather radio for preppers or weather enthusiasts, or that dad who always wants to be prepared no matter what!
For more information on this type of device, see our separate article on the best weather alert radios.
---
3. Weather Necklace
This is more of a romantic gift for if your special someone is interest in weather. These minimalist engraved pendants are classy and whimsical. Your choice of sun, snowflake, clouds, lightning bolt, and umbrella.
Available in silver, gold, and rose gold. Makes a lovely gift for a birthday, anniversary, or Valentine's Day.
---
4. Storm Chaser Street Sign
Here's a whimsical weather nerd gift: a street sign that reads "Storm Chaser St." It comes in a variety of sizes ranging from a small decal sticker for a laptop all the way up to a life-size 3 foot novelty plastic sign! Just like real street signs, this one is green with white lettering and a white stripe around the edges. For mounting purposes, this street sign has pre-cut holes to hang it with (supply your own nails, however). This sign makes for a unique weather-related gift.
---
5. KidzLabs Weather Lab Science Kit
Here's a weather enthusiast gift for the smallest type of enthusiast: children! This weather station for kids can measure rainfall, temperature and wind speed in your backyard. It also teaches kids who are interested in weather about climate change, acid rain, the greenhouse effect, the water cycle and much more. This weather kit is a great science gift for kids. You can even grow "storm clouds" in the palm of your hand! Also includes a weather journal for your child to record the conditions in their area.
Age recommendation: 8-15
For more weather gifts for kids, see our related article: 12 Science & Weather Gift Ideas for Kids & Aspiring Meteorologists.
---
6. AcuRite 01512 Wireless Weather Station
Any list of weather gifts for enthusiasts would be incomplete without a personal weather station! If you've got a serious weather enthusiast on your gift list, you might consider getting them one of these units. A weather station is in some ways one of the ultimate weather forecast gifts that you can give: it generates a personalized hyperlocal weather forecast for your area. Weather stations are especially useful for people who live in microclimates or in rural areas or places where the weather forecast is often inaccurate, either because of topography (mountains), bodes of water (lake effect/ocean effect), or other reasons. This particular weather station has an instrument unit that you can mount outdoors and a wireless display unit that you can keep inside.
This weather station will generate a forecast as well as measure temperature humidity, rainfall, wind speed, and direction, plus barometric pressure. The easy to read color display provides all that information and can stretch as far as 330 feet (100 meters) away from the instrument unit, although in most cases you'll have the best reception if you mount it about 100 feet away with a relatively clear line of sight to the instrument unit.
For more personal weather stations, see our related article: What is the Best Wireless Anemometer & Wireless Wind Speed Meter?
---
7. Set of 4 Meteorology Patent Prints
This set of weather nerd gifts are handsome prints of artistic meteorology patents that depict four instruments from 1879 to 1962. There is a patent for a cup anemometer, a patent for a special type of weathervane, a patent for a type of dial used on barometers, and an obscure instrument designed by a civil war officer in the 19th century to help farmers predict the weather. What a nice type of simple but handsome weather art. These prints measure 8 inches wide by 10 inches tall.
Note that this set of four patent prints does not come with frames, so if you're giving them as a weather forecast gift, you might want to pair them with a set of 4 appropriately sized picture frames so they'll be ready to hang immediately.
---
8. Galileo Thermometer & Analog Weather Station
Here's another one of those really unique weather-related gifts: an analog weather station with a Galileo thermometer. This type of thermometer was invented by Galileo Galilei in the 1600s and is made up of various spheres of different liquids floating gracefully based on the temperature.
To "read" the temperature using the color liquid balls, just look at the tag on the lowest floating colored sphere (those spheres that are touching the ground do not count). The tag on the lowest floating sphere will correspond roughly with whatever temperature it is currently. This instrument is a very attractive retro style weather themed gift. It also includes a handsome interface of three old-fashioned dials showing the time, plus a barometer and hygrometer, with which you can formulate your own rough weather forecasts (hygrometers measure humidity and barometers measure changes in atmospheric pressure).
---
9. Weathervane
You don't have to have a farmhouse to appreciate the beauty and usefulness of a weathervane. Used now mostly for their decorative appeal, weathervanes are a functional way to measure wind direction while enhancing the beauty of a home, shed, or gazebo. They're easy to mount on a roof and come in a variety of styles to match different interests and decorating sensibilities.
Look for a weathervane made of durable metals like copper. Then find a design that will suit the person you're shopping for whether it's a traditional rooster, other birds, or even mythical creatures like mermaids.
---
10. Storm Glass Weather Predictor
This is the kind of weather gift that's so unique and interesting that it makes a fun present for anyone. More than just a beautiful minimalistic art piece, this is a weather predictor. Inside the tear drop shaped glass is a special chemical that stransforms depending on the weather. Originally popularized in the 17th century, we have more advanced weather tracking abilities, but the novelty makes it a cool gift.
Based on the appearance, this storm glass can predict sunny weather, cloudiness, storms, and even snow. Looks beautiful displayed on an office desk, bookcase, or mantle.
Available in two sizes.
---
11. The Man Who Caught the Storm Book
If your loved one is fascinated with extreme weather or an aspiring storm chaser, they will enjoy this thrilling book. The Man Who Caught the Storm: The Life of Legendary Tornado Chaser Tim Samara by Brantley Hargrove covers the life of Samara and his adventures chasing tornados. While he never finished college, Samara was a prominent engineer who also enjoyed chasing twisters and helping to learn more about these powerful storms. He was a groundbreaker in researching and documenting tornadoes. This book makes a great gift for any weather enthusiasts.
---
12. Ambient Weather WM-5 Handheld Weather Station
If your loved one is interested in storm chasing or spends a lot of time outdoors, they'll really appreciate this gift. More than just a portable anemometer, this Ambient Weather station measures windspeed, wind direction, temperature, relative humidity, and compass direction. Even better, it calculates other stats like wind gust, dew points, wind chill, and even heat index. Any weather nerd will be thrilled to receive this gift.
Uses one coin style Lithium battery (included).
Measures: 5.5 inches long x 1.75 inches wide x 0.75 inches thick
Weighs: 181g / 0.4 lbs
---
13. I Am Cirrus About Weather Mug
This hilarious rug will have weather nerds laughing everytime they enjoy their morning coffee. A play on the phrase "I am serious about weather," it substitutes the cloud "cirrus."
Include some of your loved one's favorite coffee or tea to create a gift bag they'll really enjoy.
---
14. Balsam Barometer Weather Stick
This is a must-have gift for weather lovers. What looks like a simple stick, actually tells the weather! Made from balsam wood, it reacts to barometric pressure, so it points up when the weather is good and droops when the weather is bad. It seems like a gag gift, but this simple stick actually works!
---
15. Rain Cloud Earrings
A super cute gift for meteorologists and science teachers. These dangly earrings feature acrylic storm clouds with blue raindrops dangling. Handmade and completely unique, it will delight anyone who loves a cozy rainy day.
---
Looking for more gift ideas? Check out these weather gift ideas for kids & aspiring meteorologists and unusual gifts for gardeners.